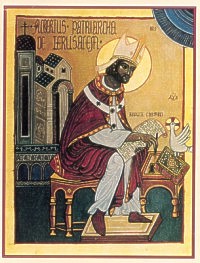 THE CONGRESS ON THE CARMELITE RULE
July 4-7, 2005
L'Ermitage
Lisieux, France
A conference of invited international scholars to study the Carmelite Rule from various aspects was held in Liseux, France on July 4-7, 2005. The meeting was developed and facilitated by the Administrative Board of the Order's Institutum Carmelitanum.
Approximately two dozen scholars from Canada, Brazil, Italy, Spain, France, the Netherlands, Germany, Great Britain, Ireland, and USA met at L'Ermitage, a residence for pilgrims to Lisieux. The center is administered by the Donum Dei, a group of Third Order Carmelites.
"This gathering represents the most diverse body of scholars to study this ancient text from a variety of academic disciplines and will build on the excellent series of papers produced by the Discalced General Definitory of the Discalced Carmelites six years ago." said Fr. Patrick McMahon, O. Carm.. "It will mark a breakthrough in the study of res carmelitana."
The study sessions was divided into the historical context of the Rule, textual studies, the classical commentaries, and contemporary approaches to the Rule of Carmel.
The papers were to be made available on the Conference website but the final version will be published as a book for the 8th centenary of the Rule in 2007.
TRAVEL | L'ERMITAGE | WEATHER IN LISIEUX
---
The Program
July 4

Sources

1.

The Holy Land at the Time of the Rule

Sylvano Giordano

2.

The Lay Eremetical Movements of the 13th century

Patrick McMahon

3.

The Early Community on Mount Carmel

Paul Chandler

4.

Autore e influssi della formula di vita albertina

Vicenzo Mosca

5.

The Fiery Arrow and the 2nd Council of Lyons

Kevin Alban

6.

Comparing the Carmelite Rule with other Contemporary Rules


Carlo Cicconetti

July 5

Textual Studies

7.

The Scriptural Foundations for the Rule

Craig Morrison

8.

The Prescriptions in the Rule

Darius Borek

9.

The exhortations in the Rule

Chris O'Donnell

10.

The liturgical Life of the Early Carmelites

James Boyce

11.

The Sources for the Rule

Kees Waaijman

12.

Theological presuppositions of the Rule

Patrick Mullins

13.

What is Missing in the Rule: Mystagogic Meaning of the Rule as a Model of Interiorization


July 6

Commentaries on the Rule

14.

Early Approaches to the Rule

Richard Copsey

15.

Mitigations and Adaptations of the Rule

Giovanni Grosso

16.

Jean Soreth's Commentary on the Rule

Brian Deschamps

17.

The 1626 and 1636 Constitutions: Differing Approaches to Living the Rule

Stefan Panzer

18.

Reading the Rule of Carmel from the lived Experience: Commentaries and Constitutions from the 14th through the 18th centuries


Emanuale Boaga

July 7

Contemporary Approaches to the Rule

19.

The Carmelite Community as a Reconciled and Reconciling Community According to the Rule

Fernando Millan

20.

The Rule as it Speaks to the Lay Person

TBA

21

The Rule And Spiritual Growth

Michael Plattig

22.

The Rule as Seen from an Eastern Viewpoint

Sr. Éliane Poirot

23.

Symposium on the Rule as seen from other cultural Viewpoints

Carlos Mesters
Peter Go
TBA

24.

Response of the North to the Challenges of the South

Bruno Secondin