no. 4 october - december 2006

.MINISTRY TO THE YOUTH
---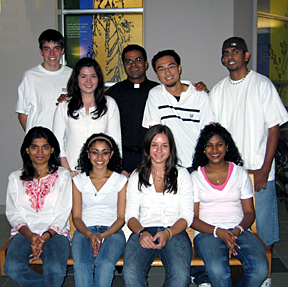 A Youthful Emergence: The Youth Ministry of St. John of the Cross Parish - Mississauga, Ontario, Canada
Since its inception in April of 2006, the Youth Ministry of St. John of the Cross Parish in Mississauga, Ontario, near Toronto, Canada, has had no shortage of activities. Not only do we try and help out with every church event, we have also had several of our own.
Our first major event was the preparation and distribution of sandwiches to the homeless of Downtown Toronto over the Easter weekend. The youth gathered after religious services on Good Friday to make the sandwiches, as well as to include little "notes of hope" in the bags, to let others know that they were loved by God. The next day, the youth boarded a bus for downtown Toronto. We walked up and down the streets, stopping to give sandwiches and juice boxes to those in need. We also spent some time talking to some who simply wanted company. A similar event was organized in October for the Thanksgiving weekend. On both occasions, many of the youth came back from downtown happy that they were able to make a difference in the lives of others, if only for a day.
Fundraising has also played an important part in our ministry. Fundraisers have allowed us to grow closer to each other by not only uniting around a common cause, but also having a good time.
Our first fundraiser was the Mississauga 10km Marathon Race. Together with Carmelites Joyson Pottackal and Abraham Kulanjiyil, a few of our youth ran the Mississauga Marathon 10k event to raise money for Vita Centre, a local Catholic agency.
As a second fundraiser, the Youth Ministry organized a car wash in July in order to raise money for future endeavors. The car wash lasted all day and was a great success. Not only were we able raise more money than we expected, we also had fun while doing it.
Our Youth Ministry has also been fortunate enough to have had a religious retreat in the few months since we began. In June, thirty young people attended a retreat organized by the Youth Ministry leaders of St. John of the Cross. The theme for the retreat was Living Your Faith in Todayís Society. There were talks, faith sharing, praise and worship, and mass during the three days of the retreat, all of which concluded with the exposition of the Blessed Sacrament. All agreed it was an amazing experience and returned changed and more aware of the presence of God in their lives.
Our favourite activity thus far, as well as the one we are most proud of, was our Summer Childrenís Hour. It was held once a week during July and August, and open to all children ages five through to twelve. We played games with the children, read them bible stories, and had many activities, such as crafts and skits, to help them understand the stories. Not only did the children have fun, the youth had a great time as well.
With the continuation of our biweekly meetings and several events already planned for the fall and winter, we hope to continue to thrive as a Youth Ministry in the community of St. John of the Cross, and continue to serve God in any capacity that we can.
Fredric Abalos
St. John of the Cross Parish Youth Group
Website of St. John of the Cross Parish, Mississauga, Canada: www.saintjohnofthecross.com/
---
Clockwise from top center: Fr. Abraham Kulanjiyil, O. Carm., Fredric Abalos, Dale Suares, Nikkita DíSouza, Chantal Trepanier, Carissa Trinidad, Kim Fernandes, James Amatuzio, Cheska Dorado. (Photo courtesy of the Youth Group)
---
---