no. 4 october - december 2005
.
---
Two Carmelites Reflect on the Carmelite NGO as a Ministry for Today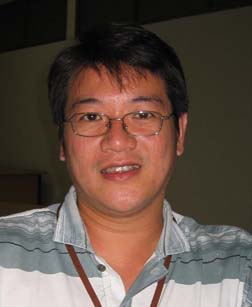 Francis Xavier Hariawan Adji, O. Carm.
Simply professed member of the Indonesian Province, member of the Province's vocation team, professor in linguistics with a specialization in statistics for linguistics at Airlangga University (Surabaya) since 1992, chaplain to the Catholic Youth Organization; member of the Indonesian Province NGO with responsibility for publishing articles about the NGO within the Carmelite Family of Indonesia.
How did you learn about the Carmelite NGO?
I knew about the Carmelite NGO from CITOC and the article written by Sr. Jane Remson. But I did not pay much attention because Indonesian Carmelites did not talk about it. I thought it was only a program for the Carmelites internationally and we were not part of it here in Indonesia. Then last February I was told about a meeting in Cikanyere where the Carmelite NGO would be discussed. Since I am still simply professed I did not expect to be able to go. But I was offered the opportunity to go as a translator.
What was the meeting in Cikanyere like?
I really enjoyed it very much and not only because of the nice people that I met there. But I also learned about the Carmelite NGO. I realized I actually knew very little about it.
What is the connection between the work of the Carmelite NGO and that of the Indonesian Carmelites?
I think the Carmelite NGO is very important for our Order. Why? Because it can be one of the places where everyone in the Order can work together to make the world better. There are a lot of people who have been working in this field but they usually worked on their own. If we can work together – Carmelite religious and Carmelite lay people—we can be stronger. Of course, our spirituality will color the work and the world.
I know not everyone in the Order would support this program but that does not matter. The Carmelite NGO has to continue its efforts.
You attended the annual NGO/DPI Conference in New York City. What did you learn from that experience?
I had heard about the NGO/DPI conference when Sr. Helen Ojario sent me an e-mail asking whether I could come to UN for the conference. I was very happy to have the opportunity because I am really interested in the theme of the conference — "Our Challenge: Voices for Peace, Partnership and Renewal." I know that if we want to make this world better, it is impossible to work by ourselves. We need to work together, build links, and network so that everybody who has the same ideal can work hand in hand. Peace and renewal are big jobs and they are our responsibility.
What sessions did you attend?
I joined the four plenary sessions. I thought all of the sessions were good. But I was mostly interested in the one focusing on the Challenge of Partnership and the Implementation of the Millennium Development Goals.
In the first one, we discussed about how to work together— old and young, female and male, governments and civil societies, religious and non-religious, rich countries and poor countries. I remember what my parents told me when I was small. They said "Every time I come out to the world, I have to stick hand in hand with others."
I attended the workshops and roundtables that had to do with education, especially of young people, since I work with them in my ministries. I want them to participate in making the world peaceful.
The workshop about using the arts to build peace and transform conflict was very interesting. I learned a new tool, using art, to make people aware of the world's problems.
The Conference also provides an opportunity to network with groups informally. Were you able to do any of that?
I went to an interfaith prayer meeting and a meeting on ecumenism. The prayer meeting had people from Protestantism, Catholicism, Zoroitism, Buddhism, Hinduism, Shinto, Confucianism, Islam and other sects. We talked together and promised to work hand in hand towards justice and peace. At the meeting on ecumenism, we talked about how to create a just and peaceful world based on the love of God. It is impossible to have a just and peaceful world without love.
How do you see the Order and the Carmelite NGO working together?
I think the Carmelite NGO is a good instrument for the Order to carry out its mission in prophecy, especially in the field of justice and peace. Prophecy consists of two elements, internal and external. The internal element is the vocation/calling to serve God through our neighbors, while the external element is the changing of the people's situation. The NGO as an institution is very important because through this institution, Carmelites who are called to serve God through their neighbors may support the changing of the situation of the people to become better. With the Carmelite NGO, we Carmelites could focus our work in witnessing to the people that the Lord is with us.
---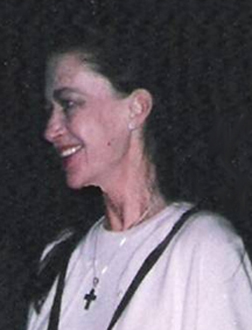 Veronica Treanor Heekin, T.O.Carm.
Married with two children, one of whom is deceased. Member of the Edith Stein Chapter of the Third Order in Middletown, New York since October 2000. Lived as a Sister of Mercy for nine years, working for three years in Central America. Holds a Masters Degree in Cultural Anthropology and will defend her doctoral dissertation within the next year.
She was introduced to Carmel at age 14, reading "Story of a Soul" by St. Thérèse of Lisieux. She became reacquainted in 1982 when she started attending retreats at Carmel Retreat in Mahwah, New Jersey. Currently works with Catholic Relief Services as staff or as consultant to NGOs whose focus is international development. She also does cross cultural sensitivity training and publications for corporations, private organizations, and individuals.
She participated in the 2004 and 2005 three day annual DPI/NGO Conferences held at the United Nations in September each year.
How did you learn about the Carmelite NGO?
In 2003 I heard that Carlos Mesters, O. Carm., whose writing I like, would be at a meeting at St. Albert's Priory (in Middletown, NY). I asked what it was about and was told the Justice and Peace Commission was discussing, among other things, the new Carmelite NGO and (its) affiliation with the UN.
Why did you attend the recent NGO/DPI Conference at the UN in New York City?
Because I have worked for and with NGO's as both staff or as a consultant for more than 25 years, I thought it might be of some help to the community if I could be a representative for the Lay Carmelites at the Conferences. Fr. Brocard (the SEL Provincial Delegate to the Lay Carmelites at the time) told me to write to Carlos, which I did, and he answered giving me Sister Jane Remson's e-mail. In 2004 and 2005, Sister Helen Ojario and Sister Jane obtained application forms for me and I attended the Conferences.
I have spoken to our Chapter, and put some info in our newsletter, but more needs to be done.
Which conferences did you attend? What was your reaction to them?
I attended the plenary sessions, some noon workshops and morning and afternoon panel sessions. The Friday morning roundtable I attended was entitled "Eradicating Poverty: Timelines and Lifelines" As with most conferences, the panel members were diverse, including those whose acquaintance with the poor appears purely theoretical and those who are in the field and on fire. Of these latter, the ones with both experience and sustained zeal are the most helpful.
What did you take away from that roundtable?
A speaker from Africa who works at the grass roots level with youth groups, called the 2015 Millennium Development Goals (MDG) deadline "crazy." He said "governments are more committed to corruption and war than to feeding and educating their people." He made more sense to me than anyone all three days, because as much as you analyze myriad 'factors,' throw money at projects, or print out numerous colored charts tracking goal progress, the fact is that corruption is a gargantuan stumbling block on the road to improving the lives of the poor.
What can Carmelites do about such "gargantuan" problems?
I've been involved in this for years. Aid to developing countries is big business. There are NGO's who do a terrific job, but they are still stymied when money is siphoned off. Prayer is needed here. While working on international development projects, the laity, the clergy, the nuns and the sisters absolutely need to be committed to making their communities aware of how much praying in a specific way for specific countries, is needed to end the greed and corruption that keeps people poor and uneducated and on and on.
In fact, many of the Carmelite monasteries of enclosed nuns see their participation in the Carmelite NGO as just that—lifting up to God some of the issues we are dealing with as an NGO. What else would you see as possible for us as the Carmelite Family to do?
If first world peoples need an incentive to do something, Wahu Kaara's keynote address "Wake up to Poverty, No Excuse 2015" is a place to start. He said: "…30,000 people dying a day…is not a statistic. The images that go through my mind when I see these numbers are the faces…of real people, my family, my neighbours, my friends…" If his listeners still could not muster compassion, the following might make them muster enough fear to act: "…the real transformation…is at the level of individual citizens in Africa. The people of Africa are increasingly refusing to accept a life of bondage, poverty and injustice…our message is loud and clear—no more excuses, no more poverty…We will not tolerate corruption…from our leaders anymore."
Later he gave a similarly strong warning to the developed world. There is so much hot air, paper, and posturing at these international things, that it is refreshing to meet people who are actually doing something.
How do you see the Carmelite NGO being of service to the Third Order?
I don't. I see the Third Order being of service to the Carmelite NGO. We are told that we are true members of the Carmelite Family. As such, it is incumbent upon us to serve the people of God alongside our clerical and religious brothers and sisters. Our new Rule, Living the Carmelite Way, The Rule for the Third Order of Carmel, points out that it is the calling of the Lay Carmelite "to illuminate and order the world's activities" and "to transform the secular world." (I:28) We are called to "defend the rights of those who are downtrodden." (I:35) and to "be yeast in …temporal activities…participating in public life in the varied social, economic, legislative, administrative and cultural ventures which are meant to promote the common good." (Rule I:46). This is an enhancement of the call to all laity as delineated by Vatican II. Unfortunately, the world is said to be our (the laity's) domain since it is the world that pays us, and it is our obligation to transform it. Therefore I believe we should be the Carmelite's foot soldiers in this endeavor.
What do you see as the link between the Third Order and the Carmelite NGO?
Same answer. The whole Carmelite family is involved. There were more than 1100 NGO's represented from over 121 countries at this last Conference. Most of them were lay people. Lay Carmelites are on the staff of NGO's already. They also act as consultants to them. NGO's have volunteers, among whom are Lay Carmelites. Some of the NGO's (e.g. Rotary International, Lions Clubs International, Girl Scouts of America etc.) which attended this Conference are service organizations to which some Lay Carmelites belong. We are already immersed in many of these NGO's and they are immersed in our communities. What is needed is to make Lay Carmelites aware of what the Carmelite family is trying to do in its capacity as an NGO affiliated with the UN and its MDG's. In this way, they can link up, network, work together with other civil service organizations which makes us all more effective.
I believe that for Carmelites, networking is the sole most valuable fruit of our affiliation with the UN. And the Carmelite's presence as a praying community (and a watchdog on certain issues) is –although they don't know it—of benefit to the UN and the international community.
---
Websites Recommended by the Carmelite NGO:
Carmelite NGO Website:
carmelites.info/ngo
UN Reform: www.un.org/reform
Millennium Campaign: www.millenniumcampaign.org
The 2005 World Summit: An Overview –
www.un.org/ga/documents/overview2005summit.pdf
The Cardoso Report on UN-Civil Society Relations: "We the Peoples: Civil Society,
the United Nations, and Global Governance"
www.un.org/reform/panel.htm
Millennium+5 NGO Network's Report: We Will Spare No Effort
www.ngocongo.org/ngomeet/millplusfive/M+5reportfull.pdf
Secretary General Kofi A. Annan's Report - In Larger Freedom:
www.un.org/largerfreedom
---
---