no. 1 january - march 2007
.
---
Paranai, Brazil – 7 January 2007

Tiago Evaristo, O. Carm. (GerS-P)
Vagner Sanagiotto, O. Carm. (GerS-P)
Edimar Cordeiro, O. Carm. (GerS-P)
Raphael Eduardo Correia, O. Carm. (GerS-P)
Kleiton Jesus Ribeiro, O. Carm. (GerS-P)
Danielo Rodríquez, O. Carm. (Ita-Co)
Saúl Cohen, O. Carm. (Ita-Co)
Antônio Neto, O. Carm. (Pern)
Felipe Santos, O. Carm. (Pern)
Sidney Barbosa, O. Carm. (Pern)
Santos Martínez, O. Carm. (Baet-V)
Fausto Leandro, O. Carm. (Rio)
---
Carmópolis, Brazil – 12 November 2006

Ruterlan Jacele de Sousa, O. Carm.

Thrissur, India - 20 november 2006
Rijo Jose Thalakottoor, O. Carm.
Binny Tharappel, O. Carm.

Vetralla, Italy - 21 november 2006
M. Sabina dell'Eucaristia, O. Carm.

Curitiba, Brazil - 25 November 2006
Teodoro Krucoski, O. Carm.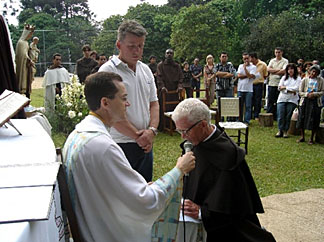 From Widower to Carmelite
– on November 25, 2006, Teodoro Krucoski, a 68 year old widower made his Solemn Profession as a Carmelite in Curitiba, Brazil. While listening to the Gospel one day, he decided to live out his baptismal promises helping the chemically dependent. This idea grew into the Casa do Servo Sofredor (House of the Suffering Servant). Receiving Teodoro's vows is the Commissary Provincial Edimilson Borges de Carvalho. Witnessing the profession is Teodoro's son, Simone.

---
Thrissur, India – 25 november 2006

Rijo Jose Thalakottoor, O. Carm.
Binny Tharappel, O. Carm.
---
Naples, Italy – 19 November 2007

Thomas Mtey, O. Carm.

Cianorte, Brazil - 27 January 2007
Márcio Wolf, O. Carm.

Santa Isabel do Ivaí – 10 February 2007
João Bernardes Alves, O. Carm.
---
Machakos, Kenya – 23 April 2006

Mary Carmen Mutethya

Onda, Spain - 21 September 2006
Ikechukwu Mary Godfrey António Okeke (Lus)
Luis Alonso Rodríguez González (Baet)
Francesco Ciaccia (Neap)
Alejandro López-Lapuente Villalba (Arag)
Xavier Varella Monzonís (Arag)
Nuno Miguel dos Santos Mendes (Lus)

Machakos, Kenya - 1 October 2006
Clare Kisichana
Angeline Kanini
Mary Kaindi

Brazil - 13 January 2007
Anderson Lucio Rosa Emanuel (GerS-P)
Klenio Perosso Gonçalves (GerS-P)
Wagner Alexandrino Nicola (GerS-P)
André Pereira Lemos (Flum)
Antonio Bento Brito dos Santos (Flum)
Ezequiel Vinicius de Oliveira Pereira (Flum)
Tiago Oliveira da Cruz (Flum)
Gerardo Avila Gutierrez (Ita-Col)
Roberto Carlos Arroyo (Ita-Col)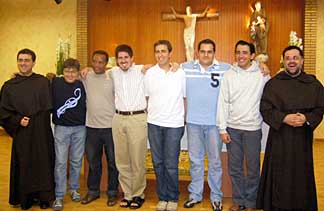 On September 21, Feast of St. Matthew, six young men of the Mediterranean Region began their novitiate in Onda, Spain during Evening Prayer, led by David Oliver, Prior Provincial of the Argovalentine Province and in the presence of the Carmelite community of El Carmen (Onda). Three of the young men are from the youth group JuCar of Vila-real. At the end of the prayer and before the singing of the Flos Carmeli, they prayed based on the Abecedario Espiritual (The Spiritual Alphabet) of Ven. Juan Sanz, O. Carm. (1556-1680).
---