no. 1 january - march 2007
.
---
Dwarfs on the Shoulders of the Giant

Our Commitment to Carmel
Marlene, now 44, and Paulus Falke, now 49, met in Amsterdam, The Netherlands, as students. They married and now have four children. Both are active members of the Dutch Province's Carmelite Associates, a Lay Carmelite group. Until recently, Marlene worked as the delegate for the Bishop of Rotterdam and as a pastoral worker in the Jacobs Hospice. She is now pursuing a doctoral degree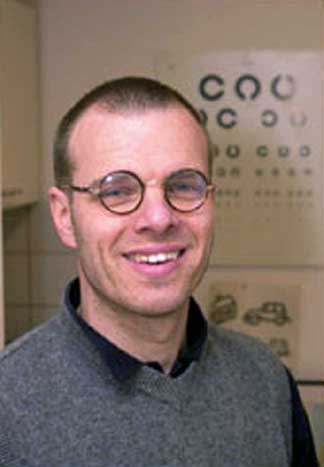 at the Titus Brandsma Institute on the campus of Radbout University of Nijmegen. Paulus is a medical doctor and works as a general practitioner in the Hague. He is also a prison doctor and a palliative consultant at the Jacobs Hospice. Paulus is also ordained as a deacon.
CITOC invited Paulus to share about their commitment to Carmel and its impact on their family and work.
Attraction between two people is very complex. That was no different for us. Being students, life was easy. I remember lots of fun, going out to pubs, traveling, in and out of the university library to study for exams. There were hardly any big responsibilities. When the money ran out, if there was much of the month left, you simply went home to your parents and they would provide you with food and more money.
At the same time, it was clear to both of us that we were only "dwarfs on the shoulders of the Giant," that there was a God looking for us, watching over us. Life was fun certainly and that life included God. And soon, instead of a "me centered" spirituality, we were looking for a "we centered" spirituality as the fundamental part of our relationship and of our marriage.
SPIRITUALITY IN OUR YOUTH
Marlene grew up with her mother and grandmother. Her upbringing was fairly anti-clerical, anti-church, and anti-authority. A Jesuit priest used to visit regularly but he was not allowed to talk about church or religion.
There was a lot of resistance from her mother, but especially from her grandmother, when Marlene chose to start theological studies. When she went to register at the university, grandmother came along. At the bus stop, she asked Marlene, "Child, are you sure that this is what God wants?"
During her theological studies, Marlene had a lot of contact with her professors who were mostly Jesuits. She became very familiar with Ignatius of Loyola.
I grew up in a Roman Catholic environment, at home with my parents. Some of the Carmelites, like Falco Thuis, would stop by to visit. I remember going to the Titus Brandsma School. I also recall the hymns the Carmelite community sang in the monastery where my family often attended mass and the mystical atmosphere and the quiet of the place.
SPIRITUALITY IN OUR MARRIAGE
Looking for a "we spirituality," Marlene and I discovered the Carmelite Rule sometime in the late eighties. We chose to try and integrate this rule into our daily life. We asked Fr. Falco Thuis to guide us along this path. In the beginning, we were naïve. As the years passed though, we appreciated that the Carmelite way is a form of pilgrimage, a way of transformation. For us though, it felt like we bought a suit, a few sizes too big, hoping we would one day grow into it. In our search for shared silence, prayer, and community, we were welcomed by the Carmelite community in Dordrecht. It felt as if Edgar Koning, the prior at the time, had been waiting for us all along. We grew and developed a stronger commitment with Carmel. In 2001, both Marlene and I were professed, following the Carmelite Rule.
We have four children, Maria (15), Gus (13), Sarah (9) and Swanny (7). We try to teach them to use the three S's— Solidarity, Soberness and Spirituality—as their guides, as opposites to individualism (the "me world"), materialism and the "makable" world.
On Sunday evenings, after dinner, we have a Chapter where the youngest starts with what she has on her mind, what she thinks of the family (both the group and the individuals), and her own life. No interventions by the others are allowed. Our children learn that everybody's opinions and feelings are important and welcome whether one agrees or not and even if one feels threatened.
The children know that explicit moments of prayer are a part of our daily routine— at the dinner table, before going to bed (with dad's finger tracing a cross on their foreheads), and in the small chapel in our house.
We see our choice for Lay Carmelite life not as a cultivation of a specific devotion, but, happily, as a way of sharing in the mission of the Carmelite Order. Like the friars and nuns, we try to live "vita consecrata", a devoted life. We too search for footprints, for traces of the Divine. We search for salvation.
OUR WORK AND COMMITMENT IN THE COMMUNITY
In 1994, Marlene and I, together, founded Jacobs Hospice, a home for terminally ill patients with the help of a group of lovely, committed people. In Carmelite spirituality, solidarity is important. We choose to live and work downtown, in a community with a low socio-economic status, a much less privileged area. Most of the people are immigrants and religious within the Muslim, Hindu and Christian traditions.
Being both a doctor and an ordained deacon gives me the opportunity to combine these two vocations when I work with immigrants, illegals, prisoners, or terminal ill people. Over the years, we have developed a growing insight that celebrating the Eucharist for us means the "Eucharist of the Street" (diaconia), "the Eucharist of the Family" and "the Eucharist in Church," all three being part of the Sacrament.
BEING CARMELITE AND DOCTOR AND THE EFFECT OF ONE ON THE OTHER
Living as Carmelites enables us to work in a contemplative way. Praying and silence are basic attitudes we maintain throughout the day in the hope of keeping our senses open for God and the people we meet and care for. We cherish a missionary dream. In a contemporary, modern way we "try to get the message through" (to borrow a phrase from the film "Jesus Christ Superstar"). We try to show compassion. In addition, we organize meetings every two weeks where we read from mystical texts or the psalms following the lectio divina method of prayer.
In my work, every patient, every person I encounter, is unique. That means they each have a unique life story, with their own ups and downs. It seems so important for people to be heard, to be listened to, and to be respected for the way they choose to live their lives. Carmel, for me, is therefore only a paradigm that helps me interpret and understand the reality I am in and speak to the world without words: Pilgrimage, sisterhood and brotherhood, prayer, silence and our inner cell, our Source, our Orient.
Living as a Carmelite, I experience much more inner harmony in situations of social or medical calamities and problems. People and patients choose the path they feel they must go. I cannot take their place. I can only show respect and compassion for their choices. I can only appreciate that my hands are in fact God's hands, that I am not breathing but He is breathing in me.
---
Dr. Paulus Falke in his office
---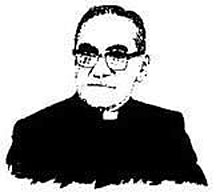 Carmelites Promote the Witness of Oscar Romero

Lay Carmelites in Britain are joining friars in promoting the memory and message of Oscar Romero, the Archbishop of El Salvador who was assassinated in 1980 to silence him from speaking out on behalf of the poor and oppressed. Monsignor Romero was a member of the Carmelite Confraternity of the Brown Scapular, a garment he was wearing when he was martyred.

On January 11, 2007 members of the Carmelite Family attended a launch in London to publicise a book of reflections by Romero, and a new charity, the Archbishop Romero Trust.

One of the trustees of the charity, Prior Provincial Tony Lester, O. Carm., was part of a group of three friars who travelled to El Salvador last year to visit places and people associated with Oscar Romero and other martyrs of that country. They were hosted by the parish served by Fr. David Blanchard, O. Carm. The British Province has funded the refurbishment of the little house in the Carmelite-run hospital where Archbishop Romero lived, including the installation of ultra-violet glass to protect the vestments he wore as he died celebrating Mass.

Lay Carmelites are deeply involved in promoting justice and peace in the life of the British Province. A member of the Third Order, Sylvia Lucas, is the Province's representative at national and international justice and peace events. She and another Lay Carmelite were present at the launch of the Archbishop Romero Trust, along with several other members of the Carmelite Family.

In 2007 the Province will also host a Romero Lecture on 19

th May in Aylesford Priory, to be given by the Archbishop's secretary Monsignor Urioste.

Johan Bergström-Allen, T.O.C.
Third Order Carmelite
---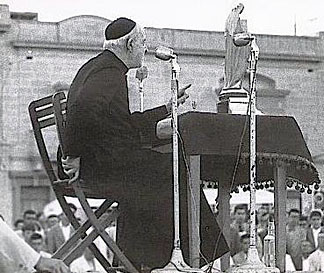 Miracle Attributed to Intercession Approved
Gorg Preca to be Canonized June 3 in Rome

During the public ordinary consistory held February 23, 2007 in the Vatican, Pope Benedict XVI established that he will canonize Third Order member Blessed George Preca in Rome on June 3rd. Szymon de Lipnica, Carlos de San Andrés and Mother Marie Eugénie of Jesus will also be canonized during the same ceremony.

A miracle attributed to the intercession of Third Order Carmelite Bl. Gorg Preca was approved by the Congregation for the Causes of Saints. The approval came at a January 9

th meeting headed by Cardinal José Saraiva Martins at the Vatican.

The announcement of the miracle approval was made by Archbishop Joseph Mercieca during a meeting with the members of MUSEUM, a society founded by Preca.

The miracle in question deals with the healing of a baby's back in July 2001, a mere two months after Preca was declared Blessed by Pope John Paul II.

Preca founded the Society Christian Doctrine, popularly known as MUSEUM, the letters being taken from the words in the motto of the Society, Magister Utinam Sequatur Evangelium Universus Mundus" ("Divine Teacher, may the world follow Your Gospel").

Preca became a Third Order Carmelite in 1918. He died in 1962.
---
Fr. Gorg Preca preaching in Malta.
---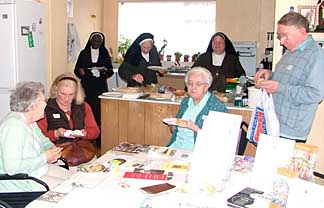 New Wineskins for New Wine: Creating a New Kind of Lay Carmelite Community
The City of York, in northern England, is a city blessed with the presence of different branches of the Carmelite Family: the friars, Corpus Christi Carmelite Sisters, as well as Discalced Carmelite nuns and "distance members" of both the Carmelite Third Order (TOC) and Discalced Carmelite Secular Order (OCDS). However, until recently there was no community or chapter in York for Lay Carmelites or lay people wanting to know more about Carmelite spirituality.
So in May 2006, I co-convened the first meeting of the York Carmelite Spirituality Group, a new group which emphasises formation in the community rather than devotional prayers. We wanted to meet somewhere easily accessible, in the city centre, with good public transport links, and suitable for the disabled. We also wanted the place to feel homely rather than institutional. We settled on the house of the Corpus Christi Carmelite Sisters.
Part of the difficulty facing some Third Order chapters-communities has been attracting younger people, so we decided to meet, usually monthly, on Saturday mornings when most working people are free. It was crucial that the format of the meeting be flexible and informal. The group is meant to be friendly, fun, and inspiring, not restrictive or ritualistic.
Making people feel welcome is absolutely vital. Unlike traditional chapter meetings which begin with prayers or devotions, we begin the meetings with refreshments; everyone is offered a name badge, and all are invited (never forced) to say their name and something about themselves. Even if there is just one newcomer we give a brief introduction about Carmel and the purpose of the group.
The meeting is normally preceded with a celebration of the Eucharist when a priest is available, but this is optional since we have attracted a large number of Christians who are not Roman Catholics. If a priest is not available we pray the Divine Office. After refreshments, we have the opening prayer of the meeting and introductions, followed by the formation programme of our Province.
The program of speakers and topics is very varied but always on topics of Carmelite spirituality. We assume that everyone present is a newcomer to Carmel so we avoid Carmelite jargon unless terms are explained (such as 'scapular' or 'charism').
After another refreshment break, and a short discussion of business, we have Lectio Divina prayer with the Gospel of the day. We began with just 20 minutes of Lectio, but after nine months this has increased to nearly an hour. The liturgy and Lectio are the only forms of formal prayer we share in the group. The purpose of the meeting is to be a holistic sharing of Carmelite spirituality in its many aspects – prayer, community, and service.
After the 'official' meeting has closed, people are invited to bring and share food. This is not very common in most Third Order meetings in Britain. We have found that people will stay for two or even three hours after the close of the meeting, sharing their lives and their faith with each other. In this sense the meeting is truly Eucharistic, whether we have celebrated the Eucharist liturgically or not. We normally find that we have an abundance of food, so after the meeting we take what remains to a local shelter for the homeless.
In addition to our regular meetings, we have put into our programme for 2007 a series of additional activities, such as retreats, 'exchange' visits to other lay Carmelite communities, pilgrimages, and lectures. In the coming months we are going to visit a local mosque to learn more about our Muslim brothers and sisters.
The group produces a monthly newsletter, and we communicate by e-mail as well. We publicise our activities in the Province magazine, parish newsletters, and diocesan newsletters and directories.
Johan Bergström-Allen, T.O.C.
---
Book from 4th International Lay Carmelite Congress
The promised book following the Congress held at Istituto Il Carmelo Sassone, Italy, September 2-9, 2006 is nearing completion. The Acts of the Congress, will be quite different to the book distributed at the Congress and will contain all the talks presented as well as the workshop group reports and homilies of the Congress.

---
A draft of the new Third Order Ritual has been approved by the General Council in Rome. The proposed Ritual has been sent to the Holy See for confirmation. The new Ritual will contain a format for the ceremonies of Reception and Profession allowing for cultural implementation with a selection of readings. There will also be a liturgy for the induction of members onto a community council.

---
New role for member of the International Commission for Carmelite Laity

Rose Mary Lancellotti (SEL) has been relieved of her position of Vocation Office Secretary and starting on 1

st January 2007, will be full-time Assistant Provincial Delegate for Lay Carmelites for the St Elias Province.

The Province now has a Lay Carmelite Office at the National Shrine of Our Lady of Mt Carmel at Middletown, New York. Rose Mary will be visiting the 62 Lay Carmelite communities with Provincial Delegate Fr Francis Amodio, O. Carm. They will be holding Workshop Days during 2007 to assist leadership teams with a theme of "Building Strong Communities." They will also work with the Province of the Most Pure Heart of Mary for an Interprovincial Convocation July 6-9, 2007 with the theme "Carmelite Prayer – Source of Energy – School for Life."
---
Rosalie Castro of Quezon City has been appointed the interim National Coordinator for the Philippines with National Secretariat staff Elvie de Dios, Rosanna Garcia and Rosmel Chavez. Councilor for Formation is Natividad Santos.
Triennial elections of four communities will be held during 2007: three from Bulacan Province and one from Cabanatuan City, Nueva Ecija.
Visit their website: www.tocphilippines.blogspot.com
---
Indonesia: Lay Carmelite Provincial (National) Council Indonesia 2006 - 2009
Provincial Delegate: Titus Brandsma Pantjaja Adji Wilasa O. Carm.
Executive Secretaries: Maria Kristanti T.O.Carm., and Lucia Maria Lusiawati Gondokusumo T.O.Carm.
Bursar: Ireneus Noertono T.O.Carm & Veronica Sri Hastuti T.O.Carm.
Councillors: Tarcisius Fred Dewanto T.O.Carm.
Tarcisius Tjan Fen Fat T.O.Carm.
Elizabeth Theresia Susie T.O.Carm.

Correspondence Address:

Paroki Hati Kudus Yesus
Jl. Mgr. Sugiyopranoto 2
MALANG 65119
INDONESIA

e-mail:
patricia-jauw@cbn.net.id
---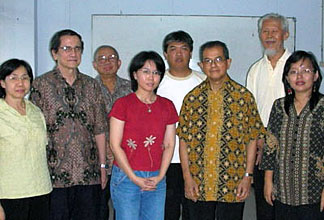 The 2006-2009 leadership of the Flos Carmeli Lay Carmelites in Indonesia.
A National Council meeting is being held in Indonesia March 17-19, 2007. (back-left to right) Thomas Samaria (Secretary), Hubertus Suprashartono (International Affairs), Johanes Bing (Second Formator) (front) Emmy Kurniawan (Treasurer), Michael Setiawan (Prior), Nancy Satyawijaya, Aloysius Poespowardojo, O. Carm. (Delegate), Mieke Suprashartono (First Formator)
---