.


no. 1 january - march 2004

---
Elective Chapter of the Carmelite Monastery of "St. Jozef" in Zenderen, Netherlands

Elective Chapter of the Carmelite Monastery of "St. Jozef" in Zenderen
The Carmelite Monastery, Karmel "St. Jozef," in Zenderen, Netherlands, recently held their elective chapter. The election results are as follows:
Prioress: Sr. Therese Neppelenbroek, O. Carm.
1st councilor: Sr. Margaretha Berning, O. Carm.
2nd councilor: Sr. Pauline Meijer, O. Carm.
3rd councilor: Sr. Jacintha Stoolhuis, O. Carm.
Director of Novices: Sr. Therese Neppelenbroek, O. Carm.
Procurator and Treasurer: Sr. Margaretha Berning, O. Carm.
Sacristan: Sr. Bernarda Weersink, O. Carm.
---
The Leaven Elects New Leadership
On Saturday 25th October 2003, the Institute of Our Lady of Mount Carmel (The Leaven) held their electoral assembly at The Friars, Aylesford. Prior Provincial Fr. Tony Lester, O.Carm. presided at the elections.
The following were elected:
President: Jean Macaskill
Vice President: Helen O'Brien
Formator: Rosemary Kinman
1st Councillor: Jeannette Rogan
2nd Councillor: Angela Kneale
The Leaven was instituted in November 1949 and incorporated into the Order at that time. It is centered at Aylesford. According to the 2001 Status Ordinis, it counts 29 members. Seven are "student members," 8 are "life members," and 14 are "life members consecrated."
---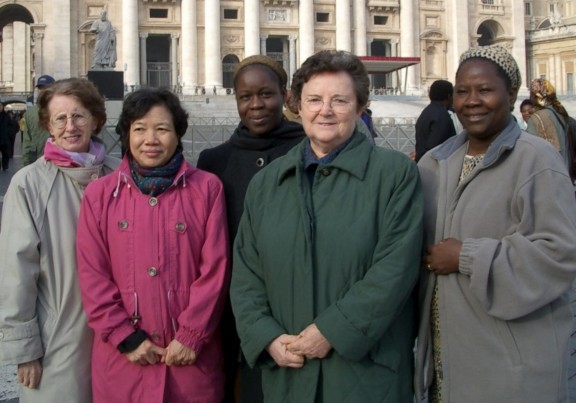 (Left to right) Marie Josèphe Perriot-Comte, T.M., Thérèsa Su, T.M., Marie Clémentine Paré, T.M., Agnès Brethomé, T.M., Albertine Ouédraogo, T.M. (CITOC photo)
IVth General Assembly of the Donum Dei Missionary Family
The Donum Dei Missionary Family held its IVth General Assembly from November 17 to December 5, 2003 at
l'Eau Vive in Rome. Forty eight members came from the five continents. The Vice General, Carlos Ciconnetti, and the General Delegate for Carmelite Laity, Joseph Jancar, celebrated the opening Mass.
Jancar worked with the Assembly, especially regarding the amendment of the statutes. The Missionary Workers were able to get acquainted with him and were happy to welcome him as the new Delegate of the Prior General for Donum Dei.
The results of the elections, presided over by Fr Joseph Chalmers, the Prior General, are as follows:
General Responsible: Marie Clementine Pare (Burkina)
Vice-General Responsible: Agnès Brethomée (French)
Counsellors: Marie-Josèphe Perriot-Comte (French)
Térésa Su (Vietnamese), Albertine Ouedraogo (Burkinabe)
Among many other topics, this Assembly reflected on the new male branch, "The Male Missionary Workers," which started in Lisieux, France in 2001. Two candidates are in formation at Lisieux (one from Cameroon, and one from Peru). Some other candidates are in formation in their own countries (Vietnam, Burkina Faso, India, Cameroon).
Currently, the Donum Dei Family is composed of 570 Missionary Workers of Mary Immaculate and 1868 members of the Fraternity (Associated Members).
The Donum Dei Family is present in Europe (France, Italy, Poland, the Czech Republic, Spain, and England), Africa (Burkina Faso, Cameroon, Congo, Kenya, and Madagascar), Asia (Vietnam, Philippines, India, and Indonesia) America (Argentinia, Peru, Colombia, Mexico, Brasil, and the USA), and Oceania (New Caledonia and Wallis-Futuna).
---
---