COMMUNICATIONS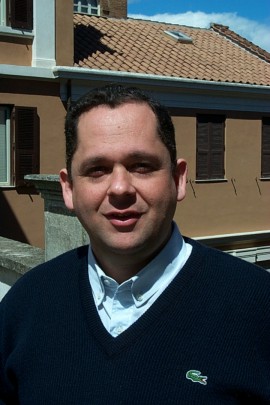 New Administrator for Edizioni Carmelitane Named
Evaldo Xavier Gomes, O. Carm., a member of the Rio de Janerio Province, has been appointed the Administrator of Edizioni Carmelitane, the Order's publishing house in Rome.
Fr. Evaldo, who made his simple profession in 1997, is in Rome studying for a doctorate in Canon Law and currently lives at Centro Internazionale Sant' Alberto (CISA) where the headquarters of Edizioni Carmelitane is located. He replaces Carmelite Antonio Ruiz who returned to his province in August.
Edizioni Carmelitane was established by the 1995 General Chapter as the publishing house for both the General Curia and the Institutum Carmelitanum.
The Edizioni Carmelitane website was recently inaugurated in the three languages of the Order (English: carmelites.info/edizioni; Spanish: carmelitas.info/edizioni; Italian: carmelitani.info/edizioni)
---
37th Annual World Communications Day: The Communications Media at the Service of Authentic Peace in the Light of "Pacem in Terris"
In the 40th anniversary year of the famous encyclical of Pope John XXIII, the World Communications Day, June 1, recalls the link between the task of communications at the service of peace and John XXIII's teaching that truth, justice, charity, and freedom are the pillars of a peaceful society (#37). The Pope asked for "justice and impartiality" in the media "for the promotion and diffusion of mutual understanding among nations" to obtain peace, justice, and social stability (#90).
The Pope's message for 2003, released on January 24, the feast of St. Francis de Sales, emphasized that the role the media play in fashioning relations among people and in influencing political life has increased enormously. The media are the modern forum where ideas are shared and where people can come together in solidarity. They often render a great service to the truth in unveiling disinformation and deceptive ideologies.
The worldwide extension of the media implies special responsibilities in the promotion of justice and fraternity among people at all levels of society. Communicators are called to guarantee free access to true information at the service of the common good and assuring access by the least advantaged members of society to the information which they need.
The communications media are bound to contribute to peace in breaching the barriers of bad faith, knowing how to encourage the path to reconciliation and mercy through understanding and mutual respect. Not only by profession but also by vocation, communicators are called upon to be agents of truth, justice, freedom, and love.
More information about the World Communications Day can be found at: carmelites.info/citoc